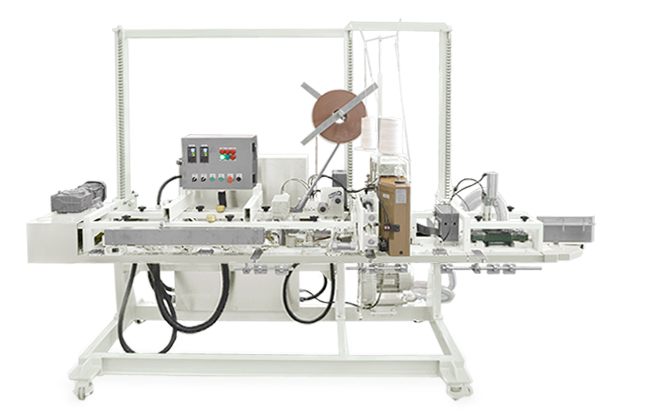 KS14-D is a high speed sewing and heat sealing system for use with paper bag with an inner PE liner bag or a PP bag with inner PE liner bag. Hot melt tape is added after sewing for a tight closure.
KS14-D Tape-Over-Sew Technical Specifications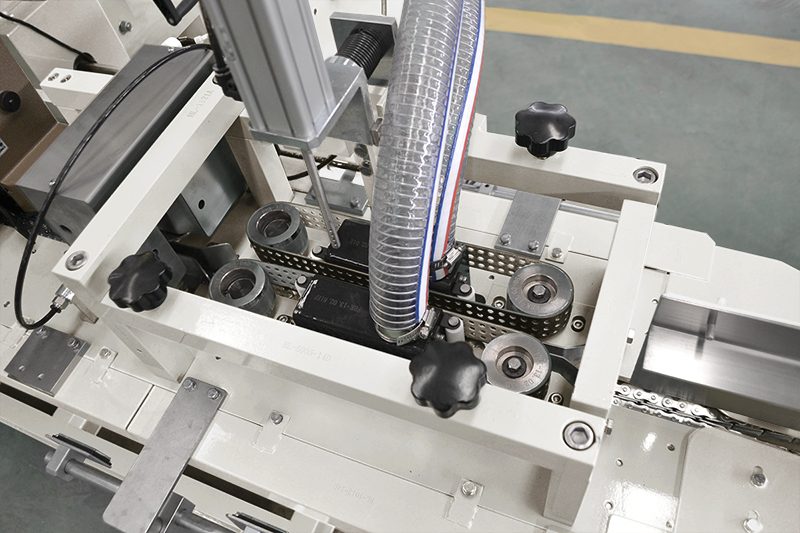 How Does it work?
The bag mouth cleaning (optional) pulls the bag open with sucking air. A Cilinder comes down and sends a puff of air through the opening of the bag. The cutter then trims the top of the bag, You wil always get a  straight top and a perfect closure.
The sewing machine closes the bag for a strong connection.
The Hot melt adhesive tape is being applied to the top of the bag.
The inner PE bag is being closed with heath selling.
Sewing Heads to Choose from
Smitsen DS-7C Standard
Smitsen DS-11 Optional. Sewing head with Oil Tank and Double action power feeding rolls.
Bags:
Paper Bag with Inner PE bag and inner PP bags
Multi wall paper bag with inner PE liner
Multilayer Paper Bag (without liner)
Specifications
Sealing Speed: 7~10 meters per minute
Heating Block Power: 0.5 x 8 Kw
Sealing Machine Power: 0,55 Kw
Bag Mouth Clean Power (optional device): 1,5
Total Power:  6.5 Kw
Device Size: 3039 mm x 1090mm x 2052 mm
Netto Weight: 580 KG.
Head of Sewing Machine: DS-7C (standard) DS-11 (optional)
Sealing Height: 800~1700 mm (measured distance to the ground)
Sealing Temperature: 0~400 degree  celsius
Application: 4-layer flat Paperbag, Inner bag with PE film sealing, Outer sealing hot melt adhesive
Color: RAL 2018