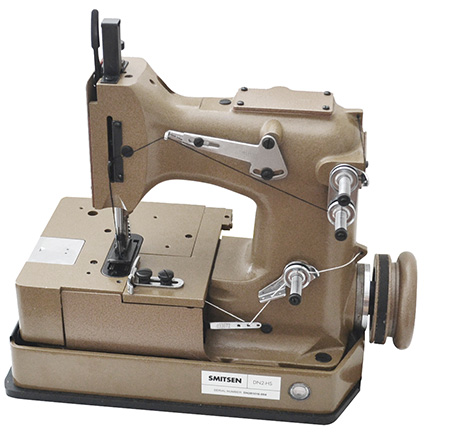 The Smitsen DN2-HS series is a high speed table top sewing machine to produce bags, and connect geotextiles. It can be used by hand on a table or it can be integrated in an automated production line. Every DN2-HS has an oil bath. Unique is the availability of the different models like 4 thread sewing and left hand side sewing versions. On all models, an additional upper feed can be added for a better grip on more rugged materials such as jute.
Max. Speed: 2800 rpm
Seam: 2-thread chain stitch, 4 thread chain stitch
Stitch width: 7-12 mm
Bag Material : paper, jute, pp (DN-2HS) paper, PP on DN-2W
Thickness: Jute, 8 mm, paper bag 4 pl. with a tuck.
Cutter: optional NLC cutter box
Needles: DR?2 #25 or #26. on 4 thread machines: UY143GS 200 or 230
Oiling: Automatic oil supply (Oil Bath)
Oil: Shell Tellus #32 or equivelant
Weight: 34 KG.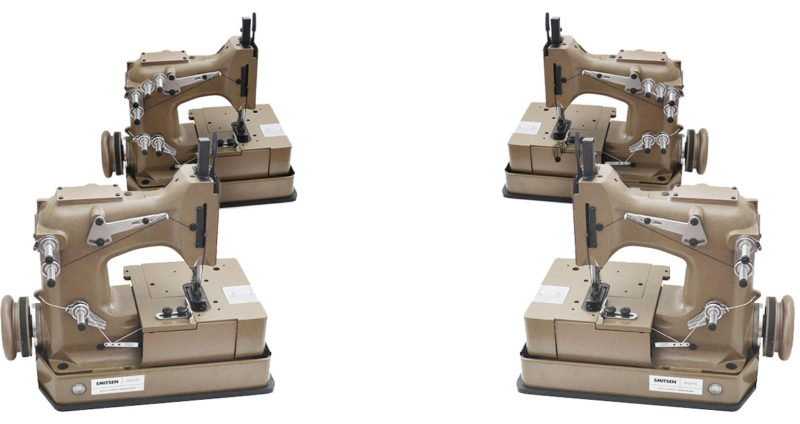 Available models:
Smitsen DN-2HS regular right hand side sewing (2 thread chian stitch)
Smitsen DN-2LS Left hand sewing (2 thread chian stitch)
Smitsen DN-2W regular right hand side sewing (4 thread chian stitch)
Smitsen DN-2LW left hand side sewing (4 thread chian stitch)
Smitsen DN-2HS-U regular right hand side sewing additional upper feed (2 thread chian stitch)
Smitsen DN-2LS-U Left hand sewing additional upper feed (2 thread chian stitch)
Smitsen DN-2W-U regular right hand side sewing additional upper feed(4 thread chian stitch)
Smitsen DN-2LW-U left hand side sewing additional upper feed(4 thread chian stitch)